Finally...art that Inspires & Motivates YOU with the Word of God...EVERYDAY
100% Satisfaction Guaranteed, Fast 3-5 Business Day Shipping & Price Match Guarantee. We are Dedicated to providing you Value
Do You Have a Plain, Boring Room?
We have GREAT news for you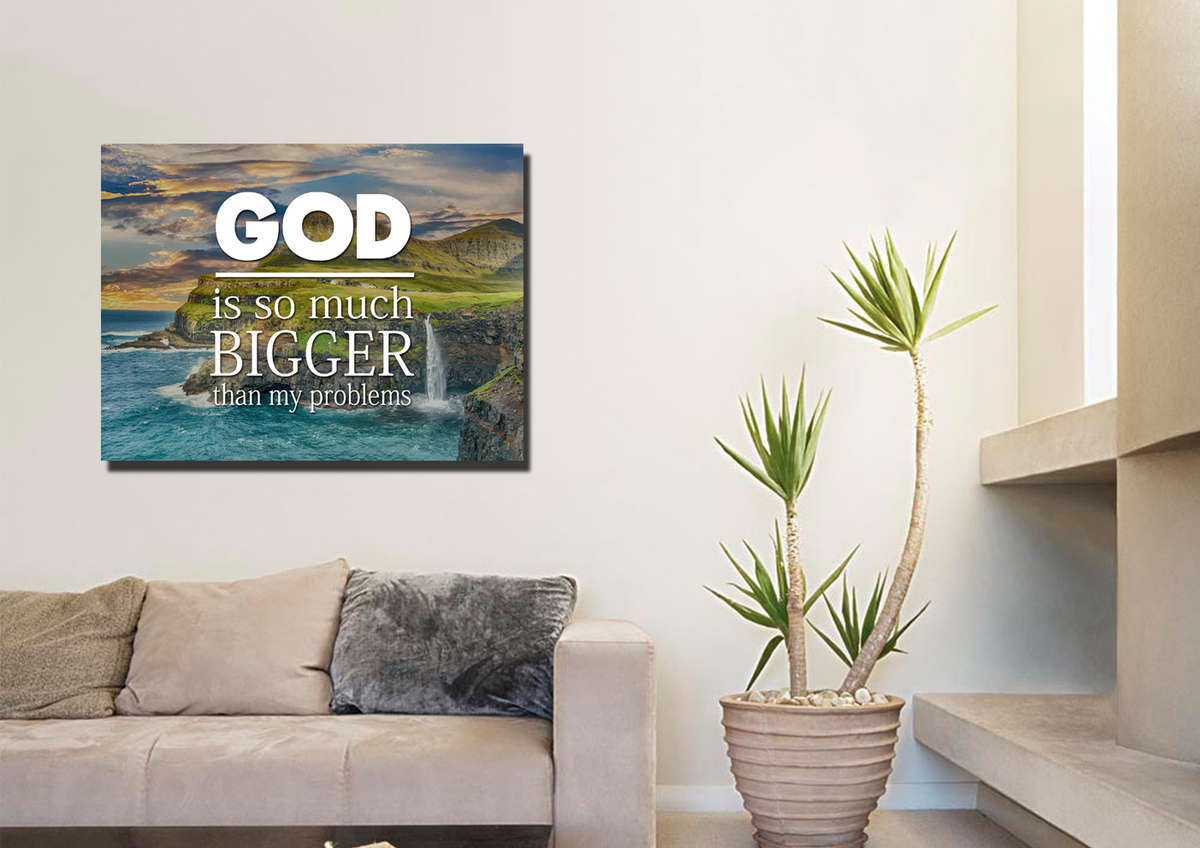 We created this high-quality art wall for you and those who have a personal connection to this Christian quote.

Imagine hanging this up at home....


This religious saying on your wall will give you inspiration, strength and motivation to your life AND your room... EVERYTIME you look at it.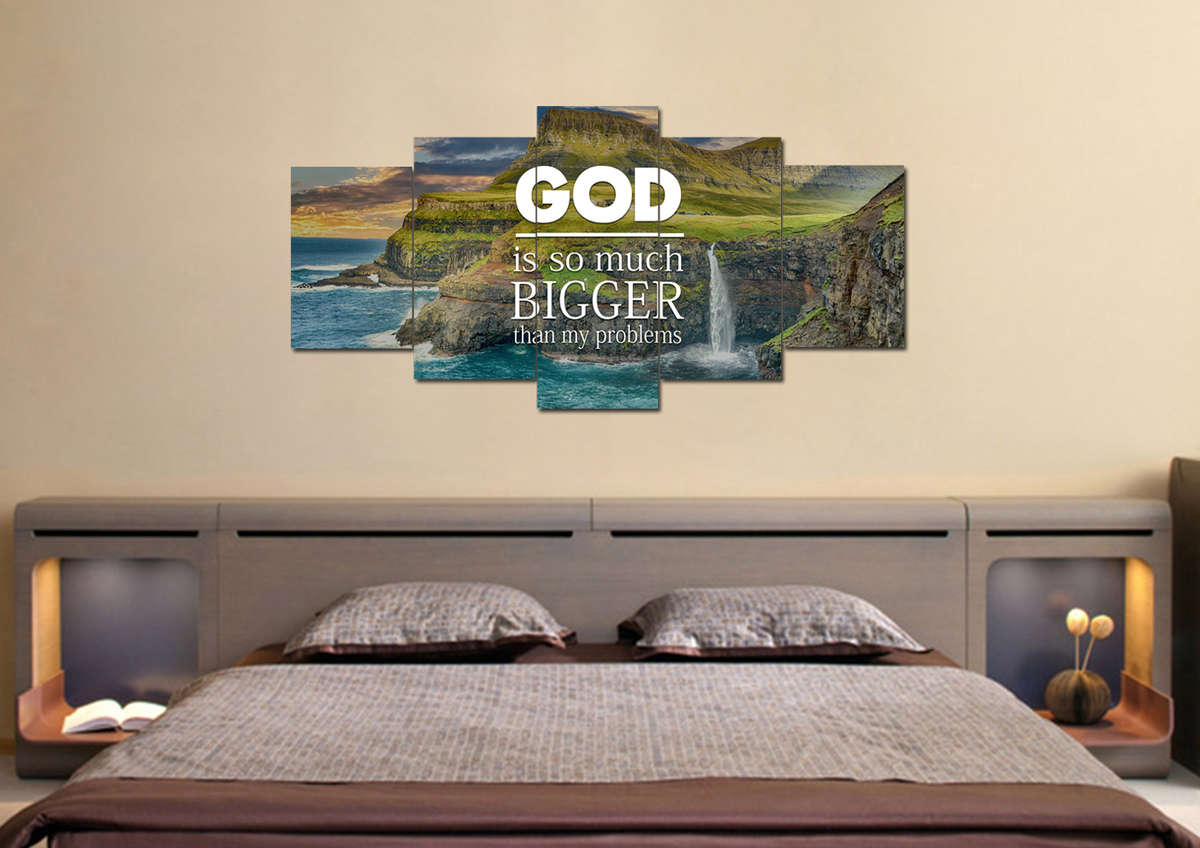 This art will minister to your guests.

As Christians, it is important for us to share the Word of God. Many of customers have said our art has been amazing in helping to spread the Gospel.
"This Is Something Unique"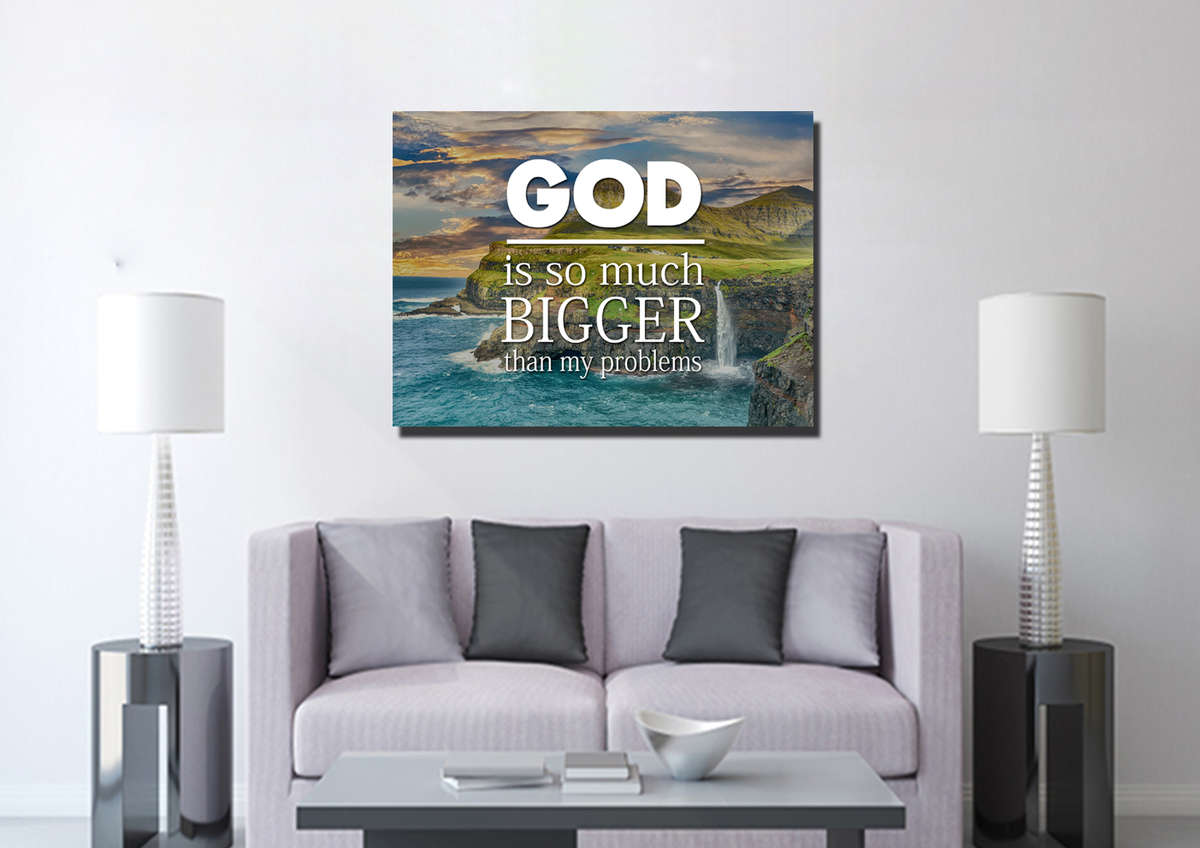 Like a window into that scene. It's frameless look is like a door into another world. The art pops out of your wall giving it a 3D, Floating effect.

Hang it in the dining room and feel the difference. Dinner with the family just got brighter.
And the best thing?
I believe my wall art is something you can admire for years to come.
There's No Better Way To Make Over Your Room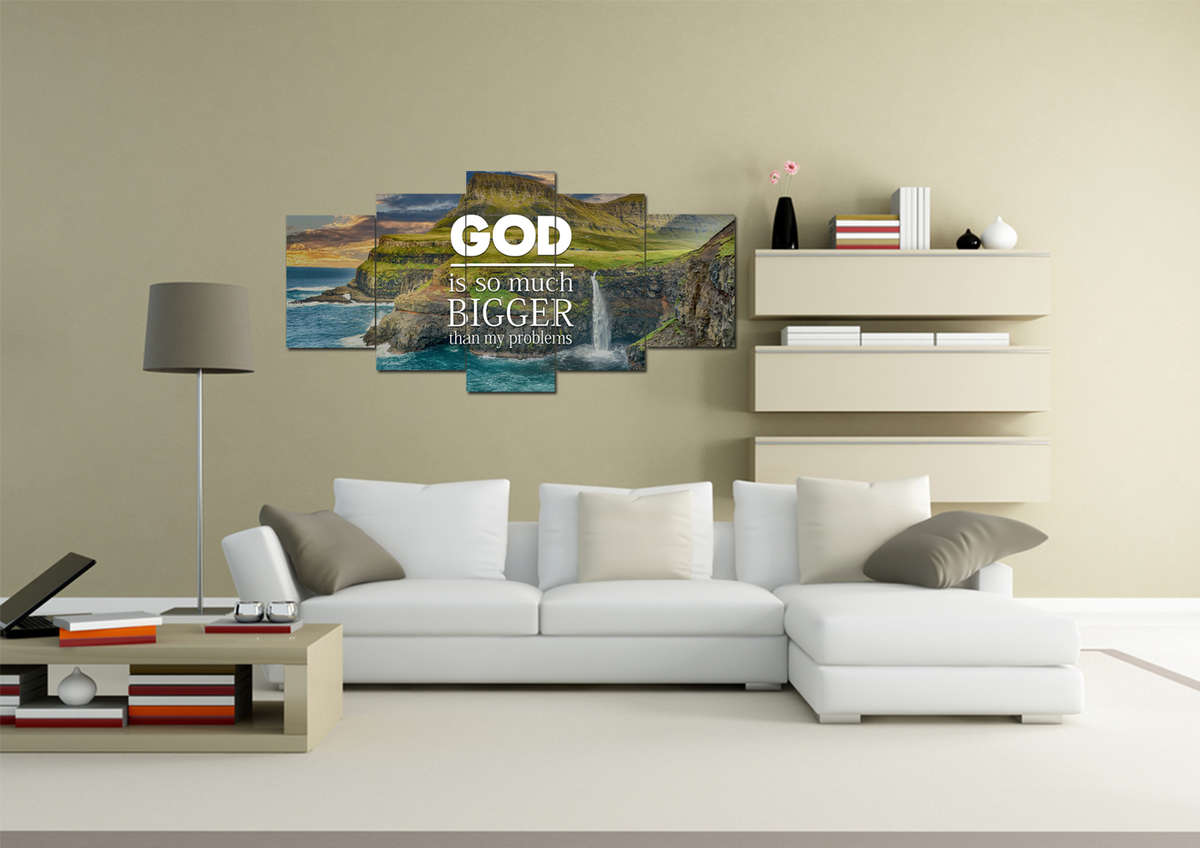 LISTEN: Want to make an impression? There's no better way than hanging up this trendy & fresh multi panel wall art.

SURE: You can go buy a poster. But how cheap (and boring) will that look?

REMEMBER: Most people hang single framed art or cheap posters. YOU will have a unique, beautiful, trendy masterpiece that you and your friends WILL LOVE.


Do you want a different bible verse? Call or Send an email to help@mightypaintings.com. I can do different scripture, backgrounds, Spanish, German, fonts, etc.
Measurements in 'in' and 'cm' for our American, British and Australian Customers. We have 2 Styles, 5 Panel and 1 Panel.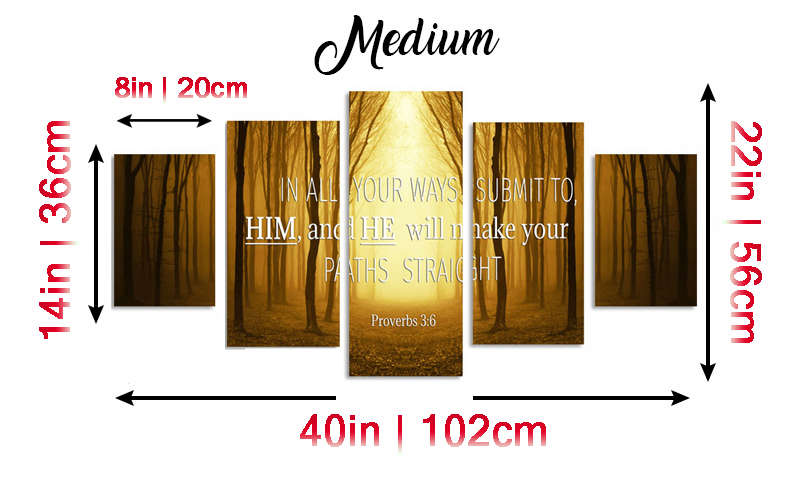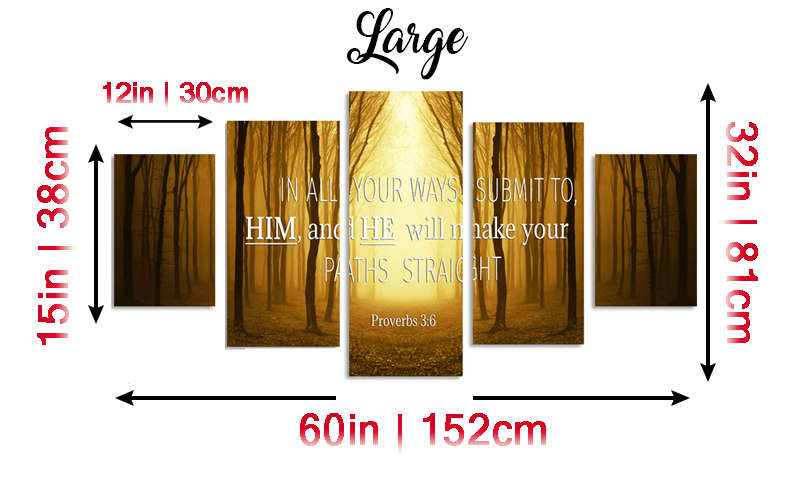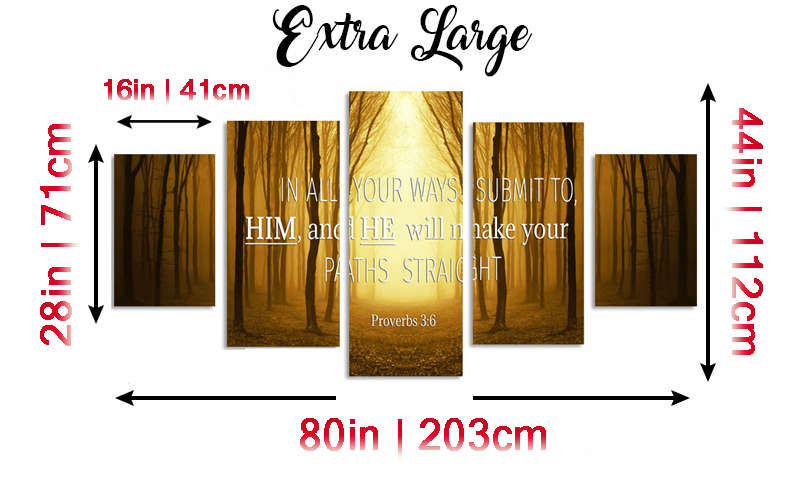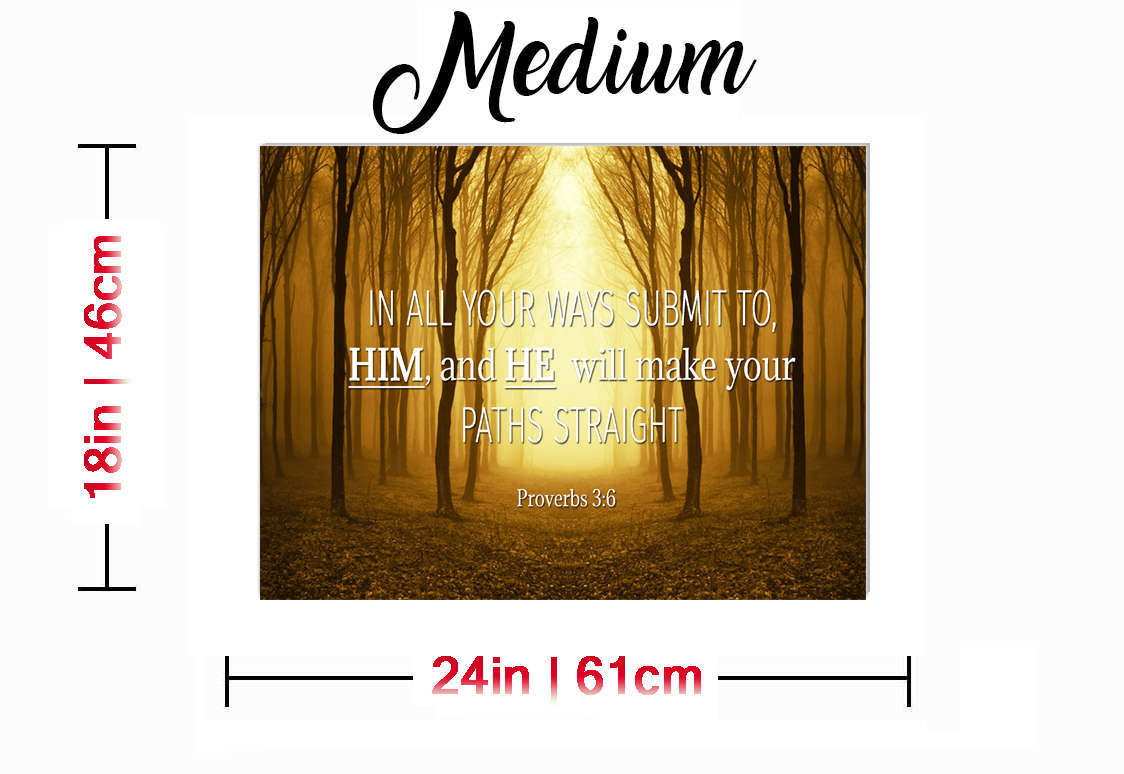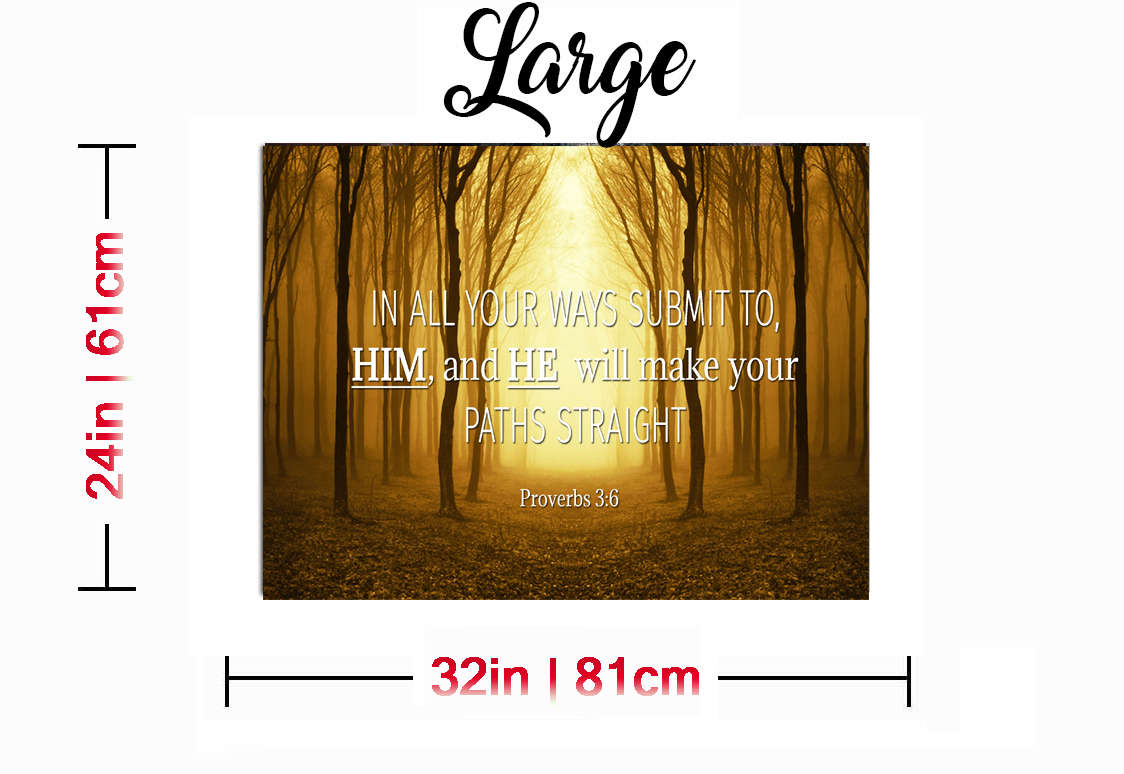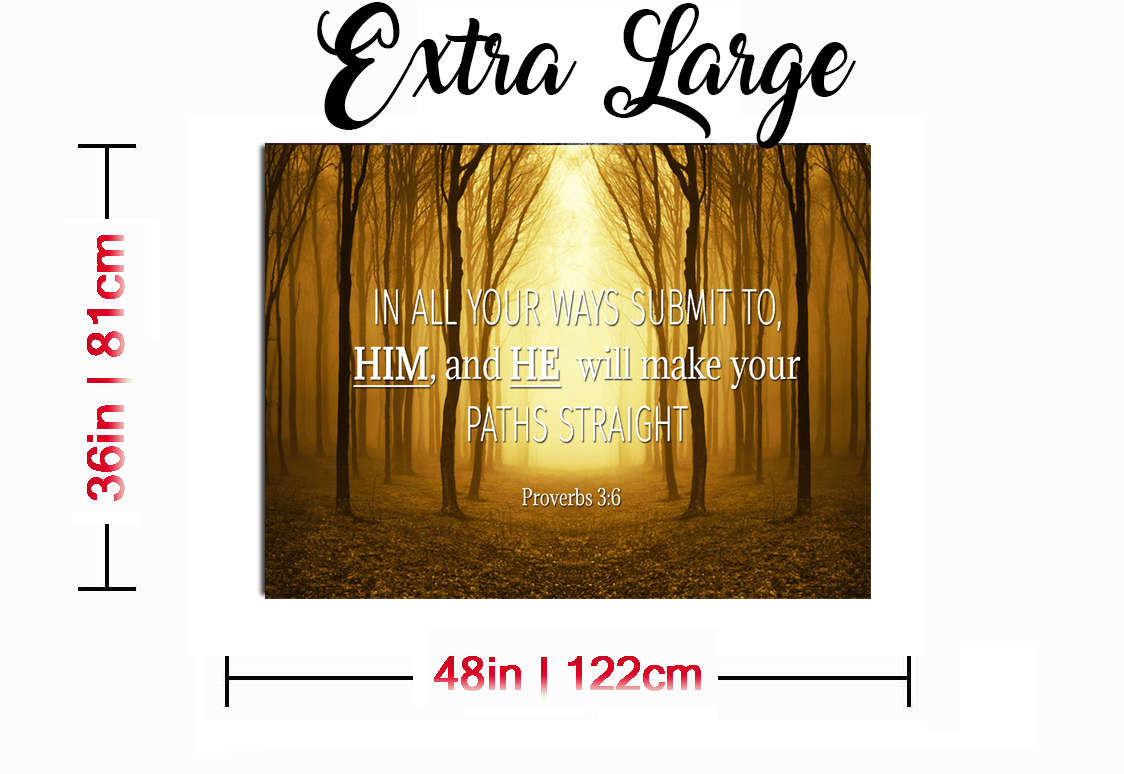 Shipping / Damages / Refunds ?
Answers to questions you might have. You can also read my
FAQ
on the bottom or top of this website.
Q. Shipping Times?
A. My canvases are Made in the USA (shipping from Florida) and made to order. From creation, framing, packaging & delivery will take 6-10 Business days.
Q. Damaged during shipping?
A. All canvases are packed carefully with corner protectors and individual wrapping per panel. But in the case of damage, please don't worry. Send me pictures of the damage to help@mightypaintings.com and I'll send you a free replacement immediately.
Q. I want a refund
A. No problem! Please email me with pictures and I'll process it within a day.
Q. Is it safe to order from you?
A. We use state of the art Anti-fraud detection and protection software. The Norton Shopping Guarantee delivers free protection for shoppers. Up to $10,000 Identity Theft Protection and a $1,000 Purchase Guarantee.
Q. Can I talk to you?
A. Sure call me toll free at 1 (888) 218-5267 or help@mightypaintings.com

Q. Can I change the bible verse, background, font, etc?
A. YES! you can please email me with your details

Q. Can you put this bible verse in German, Spanish, Italian, etc
A. Yes I can do any and all custom work. Please email me :)
Does Your Room Look Like This?
So Why Not Spice Up Your Wall with Affordable Art?
Listen: We want you to feel comfortable enough to place your order right now. That's why we are staking our reputation with these 4 powerful claims:

1) We PROMISE that you will receive the lowest price possible. We have an incredible price match guarantee + 5%. Find it cheaper? We'll match that price and give you an additional 5% discount!

2) We PROMISE that everything that was said here is true. Your wall will look great and you will feel great too! Go ahead and order this wall art. If you don't love it, we'll refund your money immediately. (Honestly, we know you'll love it!)

3) We PROMISE there are no additional costs. Free Shipping and No Taxes!

4) We PROMISE that we live and breathe by our motto of providing excellent customer service. We are here to help you anytime you need!

To sum it up, here's WHY you should buy from us:
An amazing price match guarantee + 5%.
Free shipping & Fast 3-5 Business Day Shipping
100% Satisfaction Guarantee
Excellent customer support: we are only one phone call away from you… and always looking for the way to help you